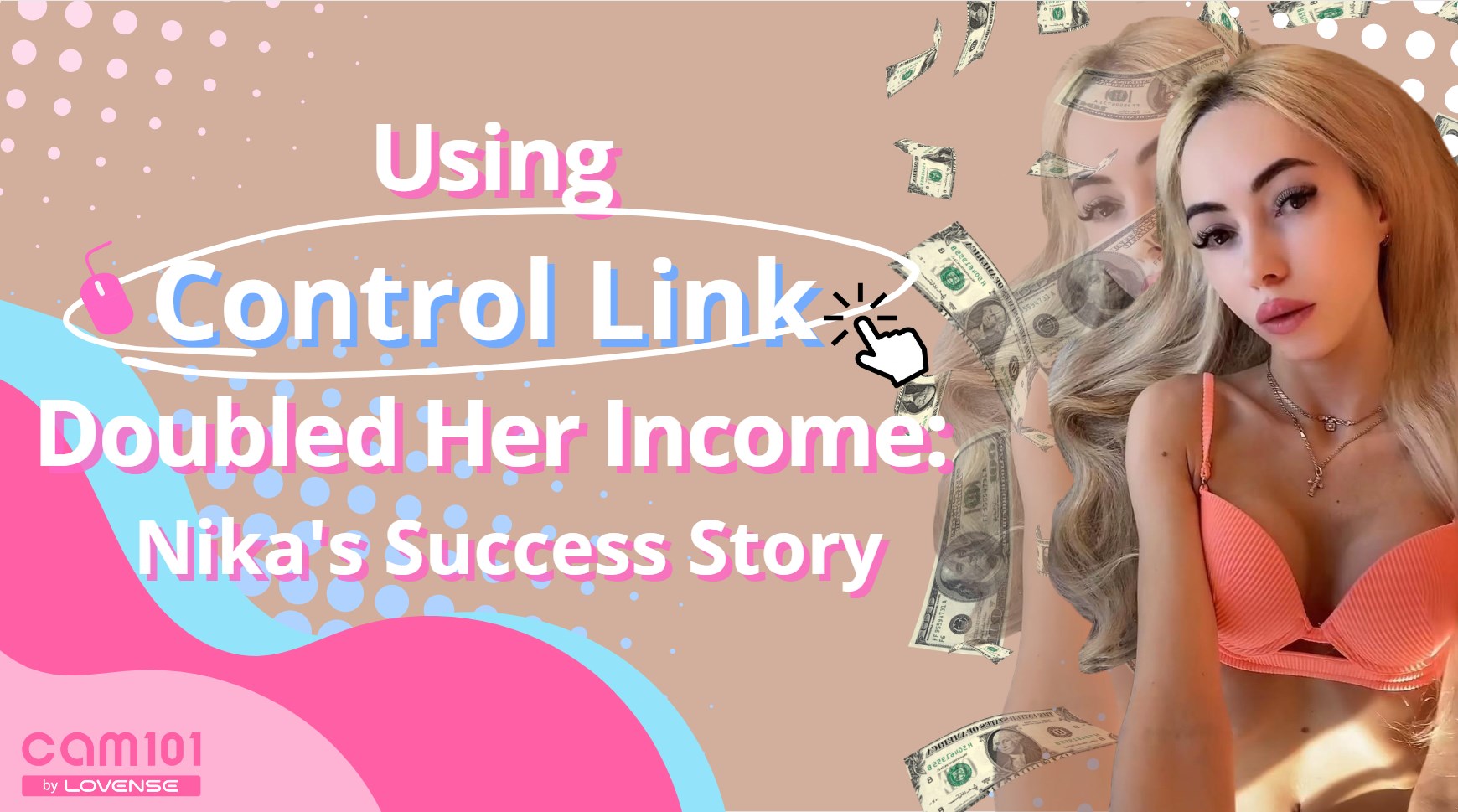 Using Control Link Doubled Her Income: Nika's Success Story
Today we're covering how one model was able to multiply her income using a super easy and efficient tool. Read on to see why Nika recommends all models try out Control Link!
About Control Link
Control Link is a new feature that lets models give tippers control of their Lovense toy. Simply send tippers the link and they'll be able to control the toy's vibration intensity for a set amount of time. A 5-minute control link session can be sold for between 200-500 tokens! This feature is a great way to build relationships with your viewers, while also earning more.
Can you introduce yourself for us?
Hello my name is Nika! I've been working as a cam model for 3 years and I love my job very much. I'm an intelligent and modest girl with very long blonde hair and a skinny, tiny body. I like to communicate with people, practice my English, and find new friends all over the world here and have some fun!
How was your experience using Control Link?
It helped increase my income! And it helped me feel real pleasure and show real emotions to my audience members. I use control link when I broadcast and I can send my link to my favourite tipper, so he can use it to vibrate my toy. That's awesome!
How do you motivate tippers to tip more with Control Link?
I use control link for motivating my tippers and it really helps me get more tips. I put links on my tip menu and tell my members how much pleasure the Lovense control link gives me. They will be attracted by me and then I send them the link to control the toy. In addition to control link, I also use Lovense games, like Blitz Mode.
When do you recommend using Control Link? (ie. what size audience?)
I recommend it for any size of audience. Even if it's just one member in the chat, this will help bring more members to your room and members will be more interested in tipping.
What advice would you offer a model who never used it before?
I suggest all new models try control link first, it's unique! Try adding control link to your tip menu and it's even better if you have different Lovense devices for your members to choose from. This will motivate members to use control link even more.
Any suggestions on improving Control Link?
Consider making new special vibration patterns. Also make the vibration display curve more colorful, it's currently only available in red. Maybe you can add some animations around it too.
Anything else you want to share with us?
I like Lovense because they help models and make our work easier and more interesting. And I hope your team can continue adding new things to the platform.
And for my fans: I'm very thankful and love my fans. Thanks for your love and support!