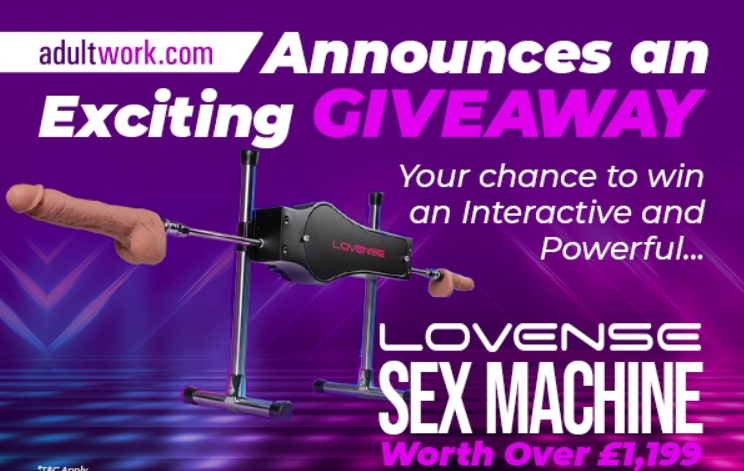 Win an Interactive Lovense Sex Machine in AdultWork.com's Exciting Giveaway!
Experience the ultimate pleasure revolution with a chance to win a groundbreaking Lovense sex machine that pushes boundaries and satisfies your deepest desires.
Exciting news! AdultWork.com has just announced an exciting giveaway that will leave you on the edge of your seat. Until June 22nd, you have the incredible opportunity to win a mind-blowing Lovense sex machine worth £1,199! Brace yourself for an experience like no other, as this cutting-edge device takes pleasure to unimaginable heights.
The Lovense sex machine has become the talk of the town, and for good reason. With its state-of-the-art technology and jaw-dropping capabilities, it's the ultimate satisfaction provider. Picture this: a range of interactive features that transport you to uncharted territories of pleasure. Its powerful motor and customizable settings ensure an immersive experience tailored to your desires and preferences. Whether you're indulging in solo adventures or spicing up intimate moments with a partner, the Lovense sex machine offers unparalleled satisfaction and stimulation.
Entering the giveaway is a piece of cake! Just follow two simple steps:
Step one: Retweet the giveaway announcement post on AdultWork.com's official Twitter account.
Step two: Show your enthusiasm and interest by liking the post.
Are you ready to embark on an exhilarating journey of pleasure? The Lovense sex machine represents a groundbreaking leap forward in adult entertainment, and you could be the lucky winner who gets to push boundaries and satisfy your deepest desires.
Don't let this incredible opportunity slip away. Retweet and like the giveaway announcement post on AdultWork's Twitter account to enter. Keep in mind that June 22nd is the deadline, so don't wait! Grab this chance to unlock a whole new realm of pleasure and make your fantasies a reality.