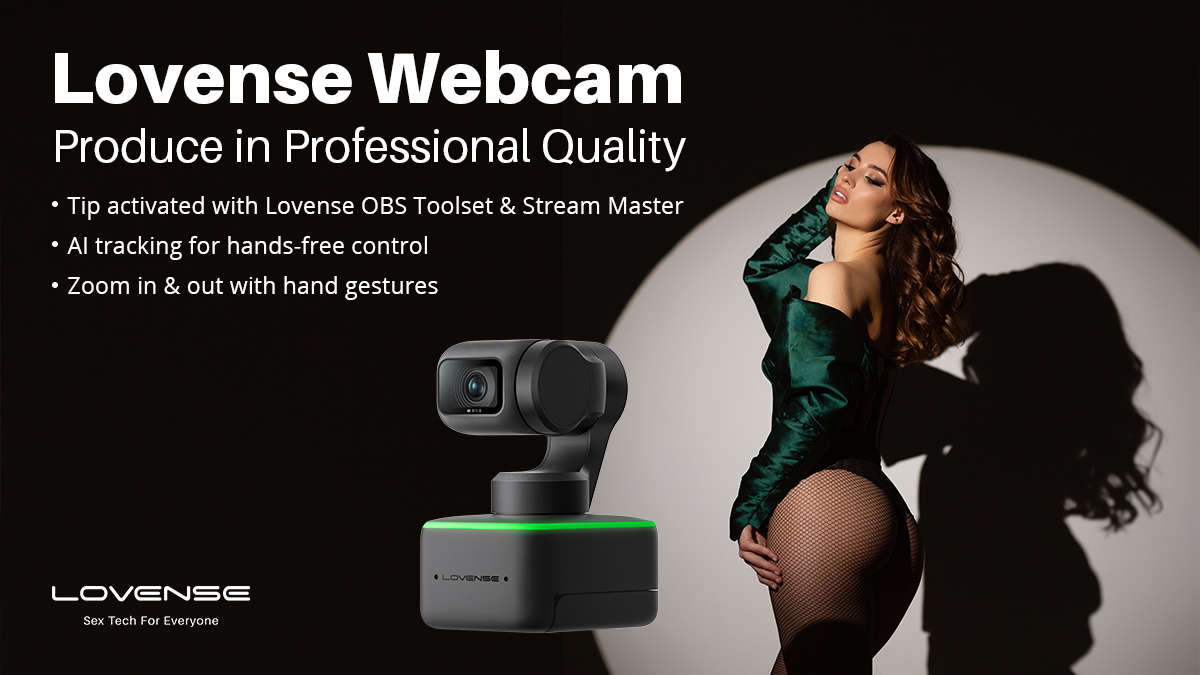 Lovense Launches 4K AI Tip-Activated Webcam
Lovense is excited to announce the launch of the Lovense Webcam, made specifically with cam models in mind. With robust features, tip activation, and dynamic gesture control, the Lovense Webcam promises users a top-tier camming experience.
Made specifically with cam models in mind, the Lovense Webcam transforms your camming stream into a professional production with endless tipping possibilities. The Lovense Webcam not only makes it easier to communicate with your audience, but gives your fans a chance to interact with your stream in a new, dynamic way.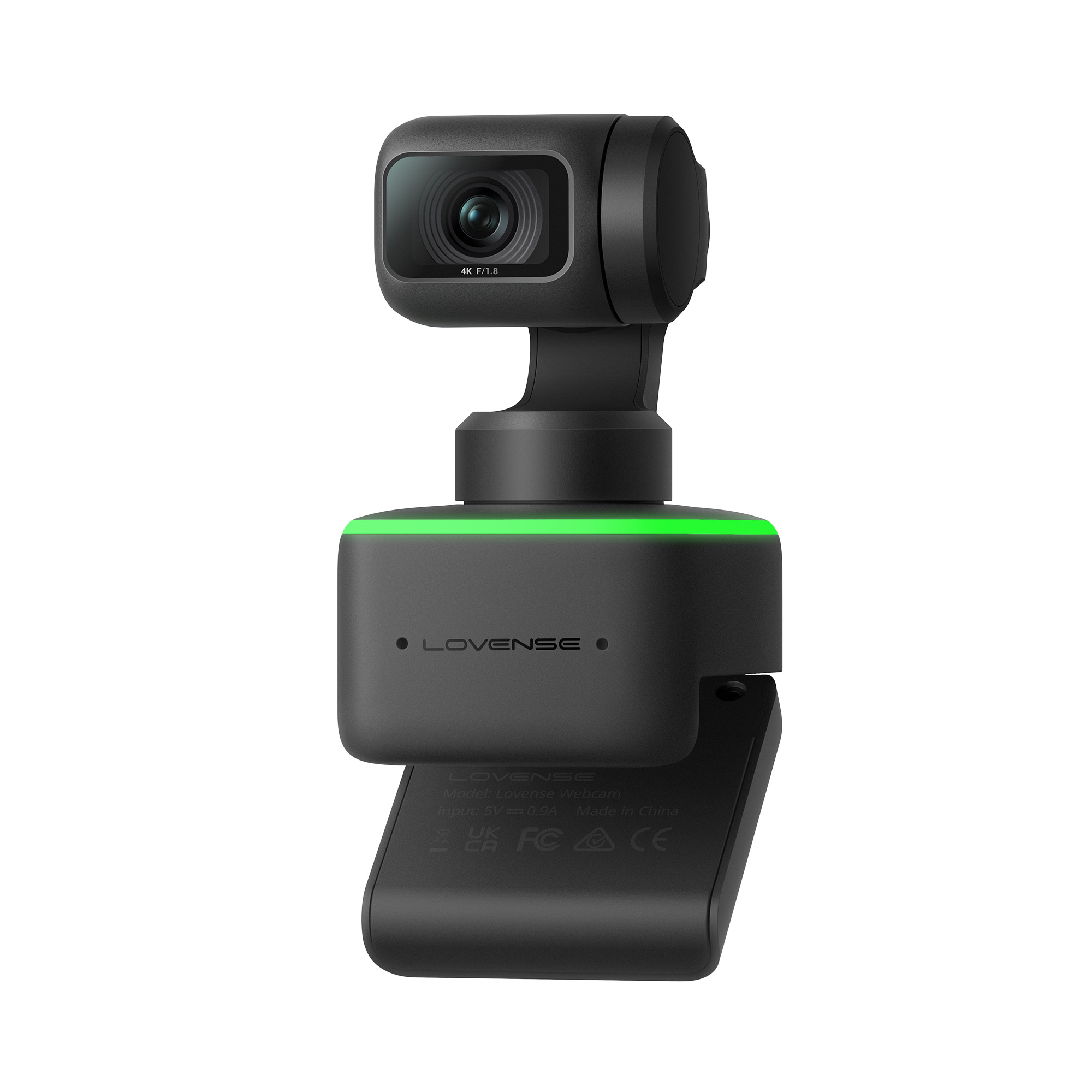 Tip Activated - Just like all Lovense toys, the Lovense Webcam reacts to tips from your viewers. Based on the settings you decide, you can select 5 different areas for your fans to focus on. For example, if a viewer tips 10 tokens, the camera can zoom in on your legs for 5 seconds if this is what you decide. These settings can be completely customized by yourself, on where you want the camera to focus or zoom in on and for how many seconds.
Ultra HD 4K Resolution – With crystal clear resolution, you will never worry about looking out of focus or grainy when on cam. Next to models with inferior webcams, yours will look like a professional production.
AI Tracking – An impressive AI algorithm and 3-axis gimbal design allows the webcam to track and follow your every move so that you are never out of frame. For example, if you are laying down in bed and decide to sit up, the Lovense Webcam will adjust automatically to your new position.
Gesture Control – Three different hand movements allow you to control your webcam from a distance. You can zoom in and out and enable AI tracking to allow your webcam to follow you, so you never have to get up and reposition your webcam again.
½" Sensor – This allows you to be captured in clear-cut detail no matter your lighting setup, even in dark rooms. As a result, you can have more fun with your lighting setup, without the worry that your fans won't be able to see you.
Privacy Protection – After 10 seconds of inactivity, the Lovense Webcam will point downwards to protect your privacy, eliminating the worry that you have left your webcam accidentally on.
Portrait Mode - The Lovense Webcam makes content creation and social media upload easier by filming in completely uncropped 9:16 to ensure the best image quality for your OnlyFans, Instagram, TikTok, etc.
Smart Noise Cancellation – Intelligent dual noise-calling microphones eliminate background noise while highlighting your voice at the same time. This means that even if there is outside construction, a thunderstorm, or an annoying roommate playing music, your fans will not be the wiser.
What makes the Lovense Webcam different from others?
As the features above outline, the Lovense Webcam is built with cam models in mind. Since your webcam is the most important purchase you make as a cam model, Lovense wanted to make sure theirs had all the bells and whistles that will help boost your earning potential. The goal of the Lovense Webcam is to make it easier to communicate with your audience in crystal clear resolution while offering dynamic, engaging features. By offering tip activation, AI tracking, and gesture control, your screen becomes more engaging and interesting to your viewers and stands out from other models. You are able to use this smart technology to your advantage, focusing on your fans and spicing up the possibilities of your stream.
Cam model Eva Darling tested the Lovense Webcam and gives you a little teaser in the video below on how to use the various features in your cam show. Head over to the Skills section of Cam101 to see the full video.
Eva Darling is a blonde-haired, blue-eyed southern bell who's been live streaming on Chaturbate for 6 years with the username pr3ttyp1nkpussy! Alongside camming Eva has a plethora of amateur adult content for sale on multiple platforms. She won the 2022 Cam star of the Year at the YNOT Cam Awards and has been nominated for an AVN.
When can I use the Lovense Webcam?
The Lovense Webcam will be available for online purchase on February 8th as a limited presale while quantities last in certain countries and regions.
The Lovense Webcam will be compatible with the PC version of the Lovense OBS Toolset on February 8th.
The Lovense Webcam will be compatible with the Mac version of the Lovense OBS Toolset and the PC version of Stream Master on February 14th.
The Lovense Webcam will be compatible with the Mac version of Stream Master on February 26th.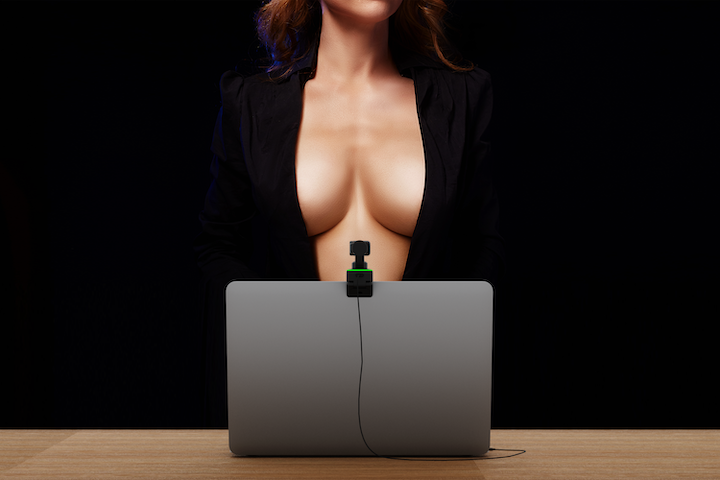 How can I add the Lovense Webcam to my wishlist?
The Lovense Webcam is available for purchase on the Lovense store as a limited presale while quantities last. As an investment into your camming career, the Lovense Webcam makes for the perfect wishlist item. In case you didn't know, Lovense has a wishlist feature that allows your fans to purchase Lovense products for you with zero personal information about you being shown. It's super easy. Just make an account on the Lovense website and under your profile, create a wishlist. A link will be generated that can be shared with your fans which is 100% safe and protects your confidential information. After that, promote it! Remind your fans of your wishlist, share it on holidays, and don't forget to remind them that these products benefit them.
Want to get your hands on the Lovense Webcam in the limited presale while you can? Buy now!