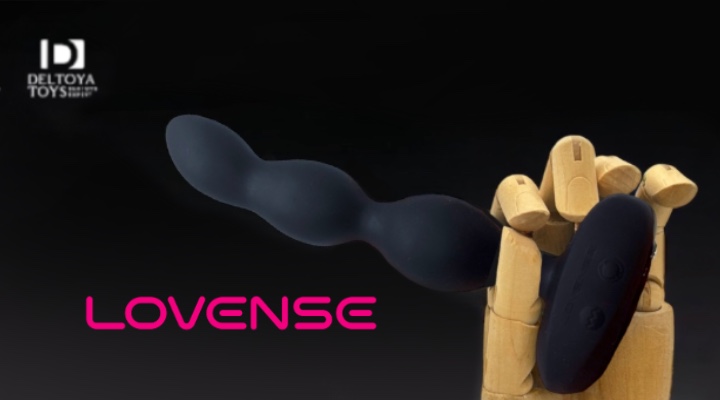 Is Ridge Worth It? Trusted Reviews from our Cam101 forum members
Lovense's new toy, Ridge, was just released and exclusively tested by forum members that are ready to spill the tea on what they really thought.
Review by Deltoyatoys
Lovense continues to expand its catalogue with basics that should never be missing from any bedside table. After a few recent releases for vaginal stimulation like Flexer and Gravity, this time it's the turn of anal pleasure, and they present their first anal beads called Ridge.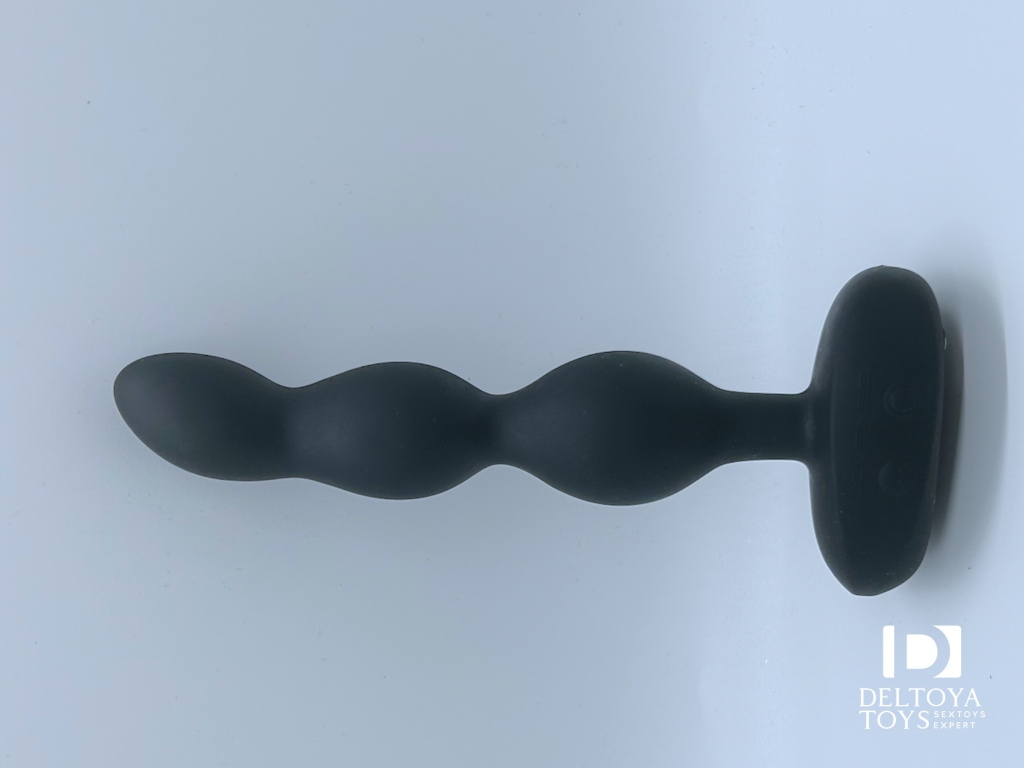 Anal beads?
I take this opportunity to explain that Anal beads have nothing to do with the most famous Chinese balls. The former are intended for anal use and are characterised by being composed of three or more balls that normally increase in size gradually, from less to more, thus favouring insertion. Another of the most important characteristics is that they must end on a wide base so that they cannot slip in by mistake.
On the other hand, Chinese or Kegel balls are for vaginal use only and are made up of one or at most two balls and do not necessarily have to have a strip or cord to help extract them, although this is usually the most common. The use of these balls is more intended as a therapeutic product than for pleasure, although you can also find them with vibration for other types of games.
To this day I still find these types of vaginal balls in many toy boxes of people with penises, which they use anally, and I can assure you that in case of carelessness you can spend a rather unpleasant time in the emergency room waiting room at the hospital. nearest hospital.
That being said, let's find out what Ridge brings to the market again.
Packaging
Lovense sticks to its design, so there is little new in the packaging: white rigid box with the product photo on the front and all the technical information on the back. The design is quite simple, but they have managed to create a brand image and I doubt there will be anything new in this regard for a long time.
On this occasion, the brand has had the wonderful idea of including a QR code on the front, below the name, which once scanned will take you to the video presentation of the product. They should raise the salary of the person who had this idea!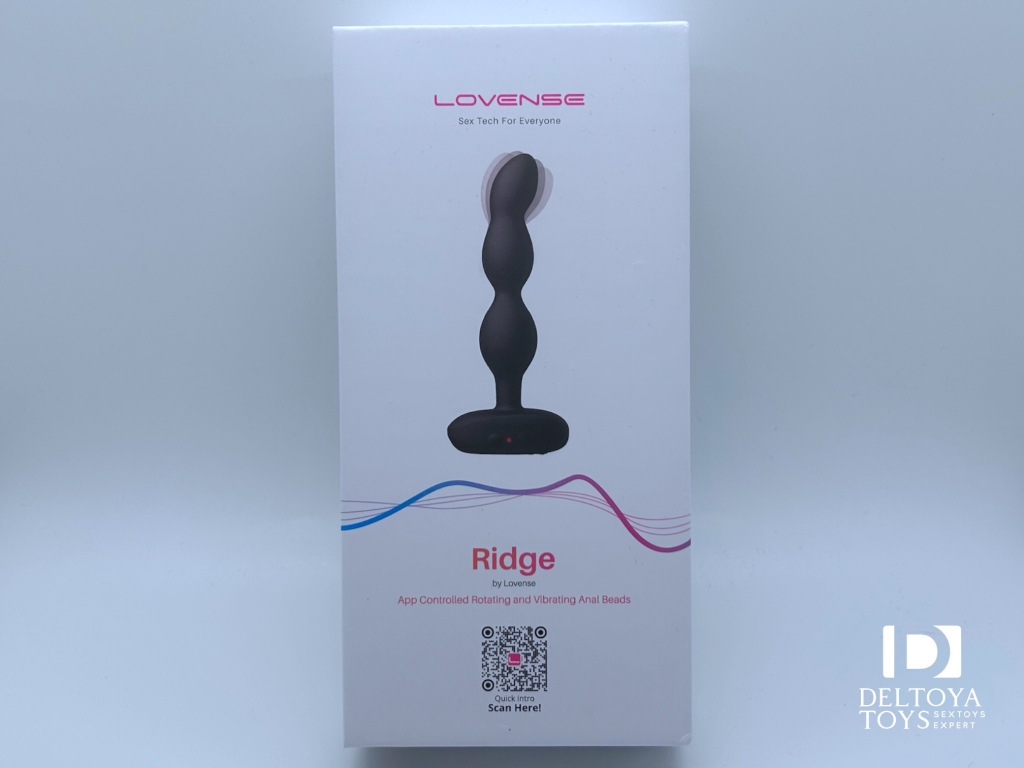 Click here if you want to see the video.
Content
Ridge Vibrator.

Charging cable.

User manual.

Storage bag.
Description
At first glance, Ridge may seem like just another anal vibrator, but those of you who know the brand already know that Lovense products, despite not standing out for having original or careful designs (in most of their products), have many other qualities that make it one of the best brands in the market.
Ridge is made entirely of silicone, and the brand continues to choose black for anal products, as happened with the Edge prostate and the Hush series of anal plugs.
The anal stimulator is made up of three balls of different sizes: the first 2.55cm in diameter, the second 3cm and the third and last 3.4cm. The insertable length is 14.7cm, and the total length is a little more than 17 cm, including the base. As for the weight, only 129g.
It is a product intended for anal use, the base is much larger to prevent it from sliding in and going from having a fun moment to an unpleasant situation. In addition, the base allows you to hold it comfortably and, both due to measurements and weight, you should not have any problems when using Ridge alone (many times this type of product is so long or heavy that playing alone may not be as easy as we expect it to be when we buy it). In any case, it will always be easier for you if you use it sitting down or mostly with your body incorporated, this way you will prevent it from coming off.
On the side of the base you will find the only two buttons and the metal pins to connect the charging cable. I personally would have done it the other way around: charging area on the side and the buttons and light on the base (this way, if you use it while "modelling", it will be easier for your fans to see the light reacting with each token/ tip).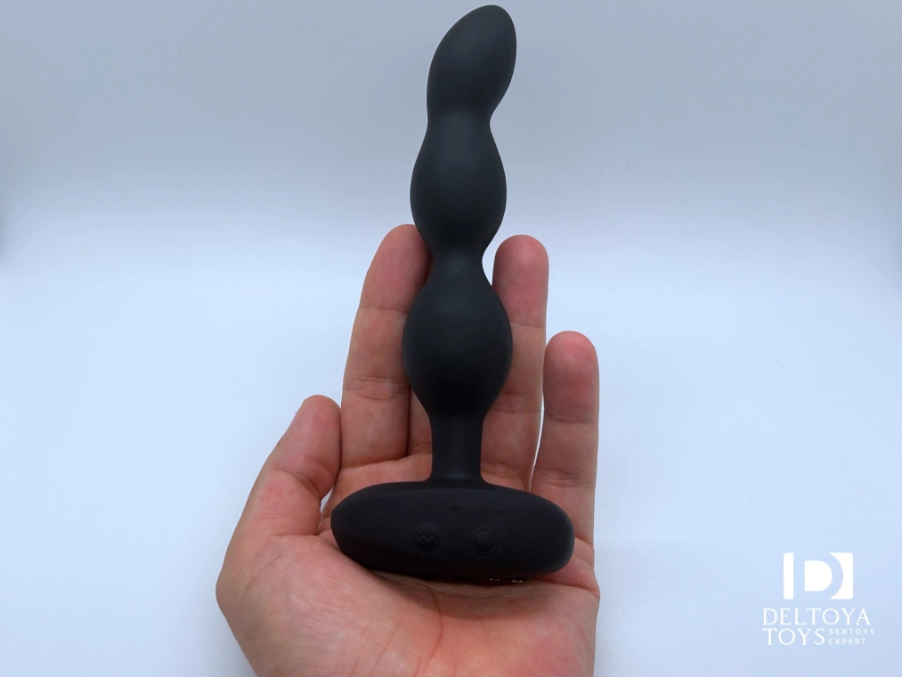 Specs
Ridge has two independent engines. One of them is located in the first bead and has a reversible rotation movement (that means it can rotate in both directions) and at the highest level, that can reach up to 116 revolutions per minute. The second is located in the third bead, and this time it is a vibrating motor with 10 different pre-established patterns if you control it manually from the button (from the app you can find and create unlimited patterns).
Unlike other products with a rotating movement, Ridge is quite silent, so you can go camming or use it in your room without hassle.
Being made entirely of silicone and charging via a magnetic base makes it completely waterproof, so you can take it to the bathroom and try new scenarios.
As for the battery, you will need about 75 minutes to fill it at 100%, and as for the usage time, it will depend a lot on the patterns and power with which you use it. Depending on the type, you can enjoy it between 141 and 145 minutes at the lowest intensity and between 72 and 76 at maximum power. In any case, it is more than enough for several fiery encounters. Something very characteristic of the brand and that many people do not know is that during the charging process the button light will remain on and once the charging process is finished it will turn off completely.
My experience
Ridge, due to its dimensions, is not a very invasive stimulator, but perhaps if it is your first experience it may be a little difficult for you. Although you already know that with patience and a lot of lubricant everything is better in life.
Lovense motors are among the most (not to say the most) powerful on the market, so despite having the motor on the first bead next to the base you will feel it quite a bit. Also keep in mind that this bead is the one that is most in contact with all the nerve endings of the anus and entrance, so pleasure is guaranteed.
As for the rotation, it feels super pleasant, but yes: don't activate it until you have the vibrator completely inside. The first level of rotation is quite gentle, which makes the body gradually get used to the movement. I recommend that once you are at work, you keep pressing the rotation button (both on the physical control and through the app) to change the direction of the rotation and gradually increase the intensity. I guarantee that the sensation will increase and the experience will be brutal. Or at least that's how I felt the times I tried it.
Infinite possibilities
All Lovense products have one of the best technologies in the industry and Ridge is no different. Almost all of us already know that it is the best brand for cam models, but the brand does not stop innovating so that the experience with its products is the most complete possible, and a clear example is the number of applications and software, completely free, that allow you to enjoy it in countless ways.
Lovense Remote is its main app with which you can control the toy(s) using the touch function, through sounds or through movement, at short distance or from anywhere in the world.
If you are also a gamer, Lovense now collaborates with many platforms that offer video games for adults. You just have to choose the genre you like the most: role-playing, adventure, simulation, fighting... and enjoy the moment.
The most romantic of you can download Bloom, an erotic audio stories platform where you can synchronise your Lovense toys and let yourself be carried away by the sensuality of the stories told. Plus, they have a lot of content in Spanish.
And for those of you looking for more exciting experiences, you can synchronise all your Lovense toys with more than ten websites with interactive content for adults with different themes.
Conclusion:

These beads are a must for all those who enjoy anal sex. There are many models on the market, but very few with vibration and even fewer that include rotation, and if you add to that the magnificent technology and quality of Lovense, Ridge is one of the best anal balls on the market. If you are a Lovense fan, Rigde cannot be missing from your drawer.
Review by Lorum
I was luckily enough to get access to Lovense's latest toy, Ridge. When talking with the Lovense staff, they told me that this new toy is anal beads. Being someone who enjoys anal…I was in. A week later I got the box in the mail and was surprised.
I was expecting something that looked like traditional anal beads...balls of silicone that are connected, usually about an inch or so apart. This was not that. The Ridge is not really "anal beads". It is a dildo. But one that has a lot more functionality than any mere dildo or vibrator.
The Ridge is, essentially, a ridged shaft. The ridges themselves are pleasant and can easily be inserted anally. The shaft itself is rigid, it doesn't have the little bit of flex like the Edge has.
Though that rigidity I found caused an issue. In one picture (below) I have my 7 inch jelly dildo which is also about the width of the largest "ridge" on the Ridge. The soft jelly dildo I can easily insert into my ass all the way to the hilt. With the Ridge, I had trouble getting that last ridge inserted. I even spent one evening really prepping…first fingers, then smaller plugs, working up to bigger plugs, old school anal beads, and the jelly dildo. I even used the Edge which has a bigger bulb on the end than that last ridge. Even with lots of lube, the stiffness of it did not want to cooperate with me. And I'm able to get a Lush and then an Edge inserted when I'm warmed up. I think the lack of flexibility and my internal anatomy was the issue. Your mileage may vary, of course, but if you're not able to take larger items anally, especially if they're rigid, you'll want to be careful.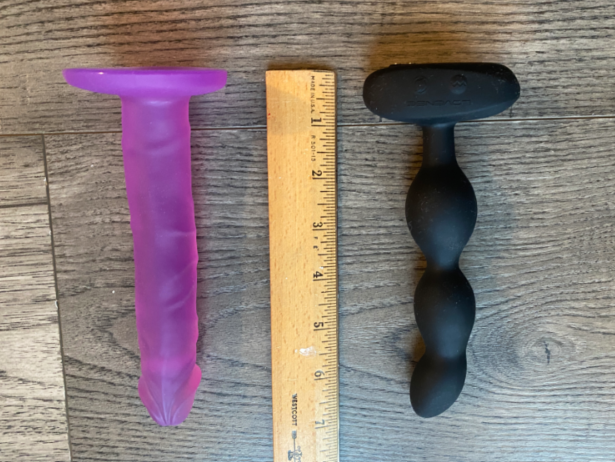 Just like every other Lovense toy, the Ridge is Bluetooth enabled and connects to the Lovense apps (for you super nerds the Ridge identifies as Z09 in the app…preproduction device ID). And you can sync it to another Lovense toy, in my case the Gush for testing, to sync up the vibrations.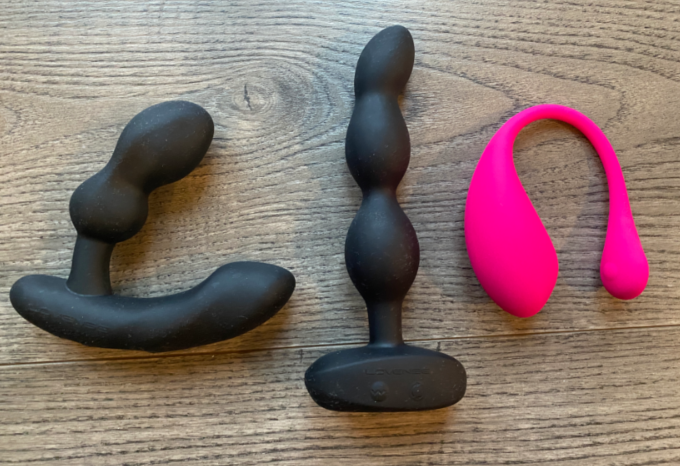 The vibration motor is definitely strong, it feels stronger than the other toys I have (Lush3, Edge2, Gush, Gemini). Just like the others, when you use the power button on the device itself, you can also cycle through various preset vibration modes, however the Ridge has an extra button. This extra button controls the rotation of the tip. It's multi speed and can rotate in either direction. Having never had anything rotating inside me before, it was definitely a new experience. Not bad at all but since the rotation is farther up, it misses the prostate. I did pull it out a bit so that the rotation was closer to the prostate and that helped a bit, but I still found the rotation to be an unusual sensation. As a male, I couldn't try it vaginally, but maybe women might find it stimulating vaginally. Even without the rotation, it should work well for a vaginal vibrator too.
Lovense says this is an "app controlled rotating and vibrating anal beads." Eh, not quite. It's a Swiss army vibrator, not anal beads. Based on the strength of the motor and the insertion feeling, I'd recommend this for people who like anal play (with the caveats I mentioned above). I think that was a great experience and would be a great addition to any cammer's toy toolbox.
As a closing note, I was hoping for actual anal beads that vibrated and I'm not sure why they went with the more traditional vibrator model, but I do hope that they release true anal beads that vibrate in the future.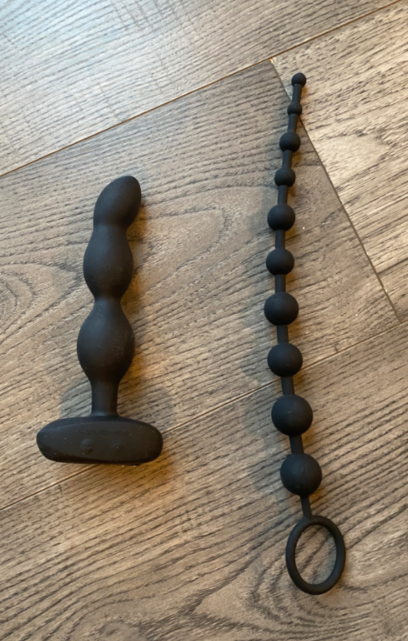 Lovense Ridge Highlights:
★Vibration and rotation - Vibration and rotation can be independently controlled. (Rotate up to 116 times per minute at the highest rotation level)
★Graduated beads design -Three graduating bulbs massage anus as they slip inside, suitable for a beginner to an advanced user.
★IPX7 Waterproof - Easy to wash after use
★Extremely quiet - Enjoy masturbating discreetly at home (~40dB)
★Reversible Rotation - The rotation can be reversible (Clockwise or anti-clockwise).
★Covered in body safe silicone
★Long battery life - Up to 2 hours of use, 120 hours of standby
★7 vibrating modes
★Flared base
★Vibration and rotation can be controlled separately with Lovense Remote
★Designed for solo play, close-range, and long-distance control
★More than 1,000,000 patterns in the library + Unlimited patterns can be created