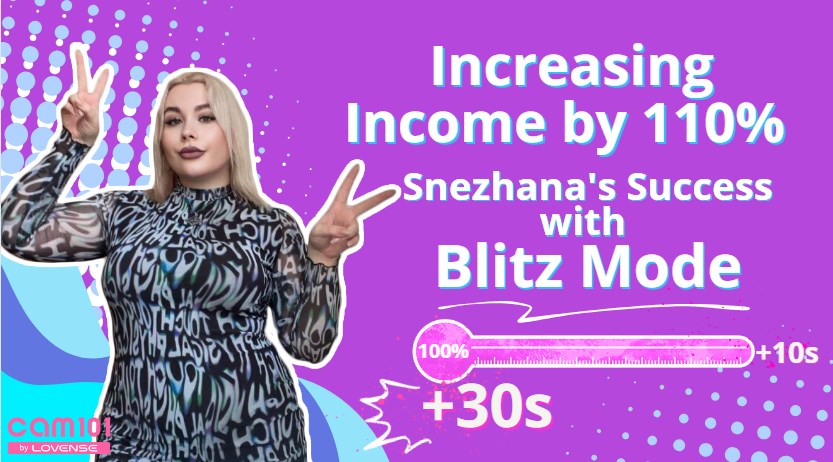 Increasing Income by 110%: Snezhana's Success with Blitz Mode
The Lovense team is always thrilled to see models thrive using different Cam Extension tools. We recently got in touch with Snezhana about her success with Blitz Mode. Read on to see what she says about using this fun interactive game with her audience!
About Blitz Mode
Blitz Mode is an interactive progress bar that reacts to audience tips; the more they tip, the fuller the bar gets! But if tipping slows down, the bar will start to empty which encourages your viewers to keep the tips coming in.
As the bar fills up, users have a chance to trigger a "critical hit" which is a longer toy vibration (you can customize all vibrations in the game settings to your preference). Once the bar fills to 100%, your room will enter Frenzy Mode which is where the progress bar bursts and your toy will vibrate for an even longer period of time at a higher intensity. You can learn more about Blitz Mode and how to set it up here.
Can you introduce yourself for us?
My name is Snezhana, and I have been working as a webcam model for a little over 3 years! But my experience in this field is not only as a streaming model, I am also an adult blogger on Telegram.
How was your experience using Blitz Mode?
I really like the new interactive game Blitz Mode! It helps to increase activity in the free chat and encourage members to tip more frequently.
How do you motivate tippers to tip more with this feature?
My reaction, of course!! I clearly express emotions, so the audience members are delighted when they can see my surprise and my pleasure at the same time! And of course, besides Blitz Mode, I motivate the audience with goals, menus, and my activity in the chat.
When do you recommend using Blitz Mode? (ie. what size audience?)
I would recommend using Blitz Mode for any size of audience. Even if it's just one member in the chat, they may be interested in try something new in the room of their favorite model!
But for those models that have large and active traffic, Blitz Mode will increase activity even more.
What advice would you offer a model who is using Blitz Mode for the first time?
First, configure Blitz Mode correctly. Second, relax on the stream! Third, turn on Blitz Mode auto notifications, they will make any necessary announcements and add details for audience members. And fourth, of course, motivate chat guests to make frequent tips with your voice and activity, so that they can see the Crit Rate.*
*The Crit Rate is the likelihood of triggering a critical hit. The more users tip, the higher the Crit Rate, and the more likely it is to trigger a critical hit.
How would you like to see us improve Blitz Mode?
Interesting question... perhaps it makes sense to pay attention to different designs? For example, make different color schemes for the Blitz Mode graph itself (not only pink, but also blue, blue, black, etc.)
Do you have anything else to share with us?
Certainly! For Russian-speakers, I would like to share my article here, which I wrote specifically about Blitz Mode! In it, I describe in detail the possibilities of this gameplay. And of course, more Russian-language news about Lovense can also be found in my Telegram channel here!