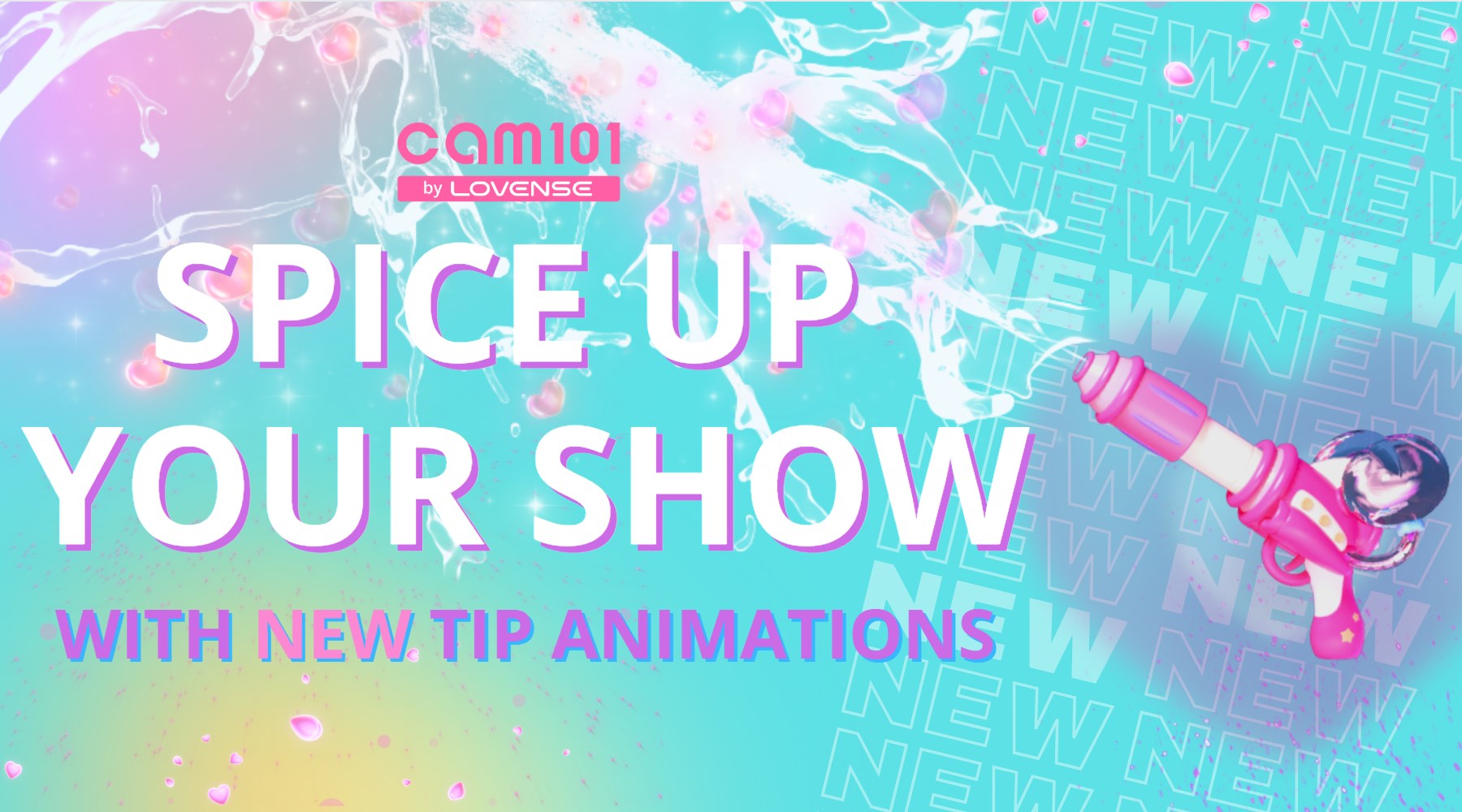 Exciting Sneak Peek: Spice Up Your Show With New Tip Animation on Stream Master/Lovense Cam Extension
Get ready to be blown away by our brand-new Tip Animation feature on Stream Master/Lovense Cam Extension. It's going to take your camming experience to a whole new level of fun and excitement!
We're excited to introduce our new Tip Animation on Stream Master/ Lovense Cam Extension. The more a user tips, the more dazzling and exciting the animations! These lovely visuals will help offer tippers a sense of satisfaction and encourage other viewers to follow.
Here's an overview of each animation along with its associated tipping level:
Level 1: Crystal Heart
The lowest tipping level triggers a mesmerizing crystal heart animation, showing your appreciation in a truly enchanting way. This beautiful effect is sure to encourage users to continue tipping throughout your show.

Level 2: Roses
When your viewers hit this level, they'll be treated to a lovely 3D bouquet of roses that'll make your performance ooze with romance and elegance. This charming animation will have viewers swooning and feeling extra generous!

Level 3: Passion Water Gun
Encourage users to be extra generous with this fun animation. Users who offer level 3 tips will trigger a water gun animation that shoots out onto the screen. Viewers will be thrilled at the exciting visual and driven to unlock it themselves.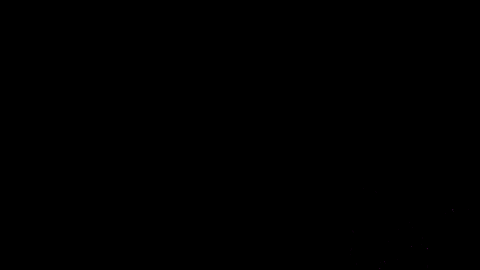 Level 4: Full-Screen Luxury Sports Car
Tippers at this level will trigger a dazzling luxury car animations that glides across the screen. This animation is sure to wow your audience and give the tipper extra satisfaction. Get ready for some seriously generous tips!

Level 5: Full-Screen Rocket Blast Off
Your highest-tier tippers will be amazed by this spectacle; a Lovense rocket blasting off into space! Encourage your audience to offer you the most and thrill them with an animation that's truly out of this world.

You can select and apply these new tip animations on Stream Master or Lovense Cam Extension.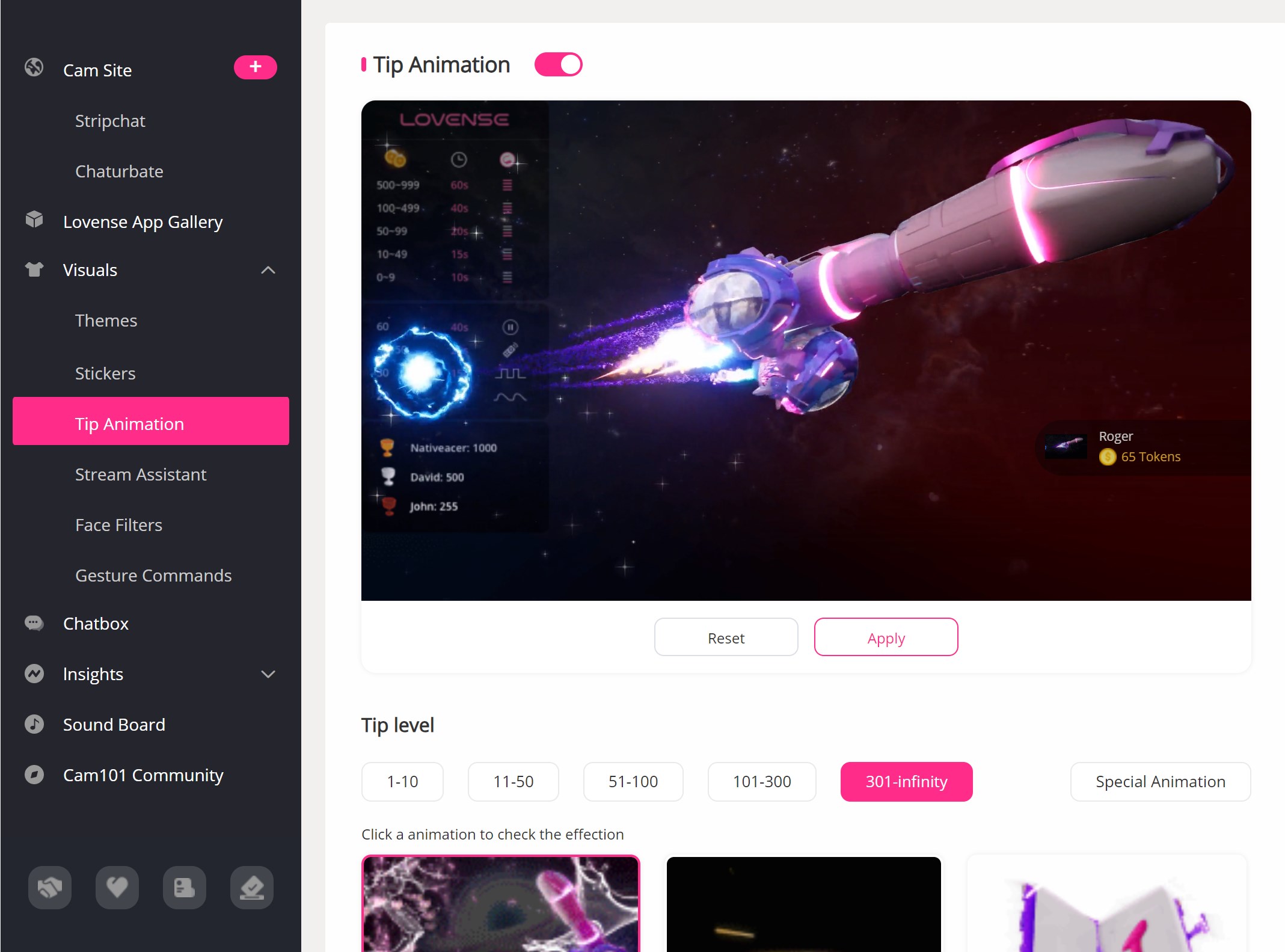 Each effect is meticulously designed to delight your tippers while also encouraing other viewers to follow. By offering a range of diverse effect choices, our aim is to bring more innovation and entertainment value to the Cam industry, providing viewers and tippers with a more immersive interactive experience.
By providing viewers with the option to choose different tipping levels, each corresponding to a unique effect, they can tailor their tipping experience to their preferences and interests. Whether it's romantic, thrilling, or luxurious, our Tip Animation Effects will add a distinctive and captivating element to your performance. Get ready to wow your audience and let the tips roll in!