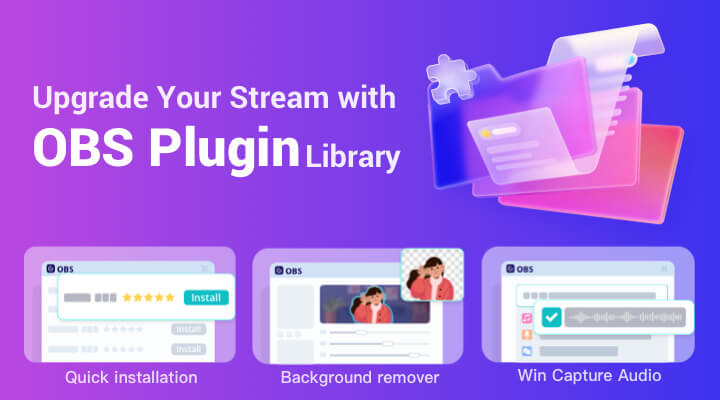 Introducing the New OBS Plugin Library in Stream Master
Seamlessly integrate plugins into your Stream Master experience. Explore, install, and manage a variety of plugins directly within the built-in OBS Studio. Enhance your streaming capabilities effortlessly.
We are thrilled to announce a revolutionary feature that will elevate your streaming experience with Stream Master. Our brand-new OBS Plugin Library is here to simplify the process of adding and managing OBS plugins, making your streaming journey smoother and more efficient than ever before.
Simplified Plugin Management
For users who employ OBS Studio as their external broadcasting tool, you're familiar with the intricate process of searching, downloading, and installing plugins. Additionally, uninstalling these plugins can often be a cumbersome task.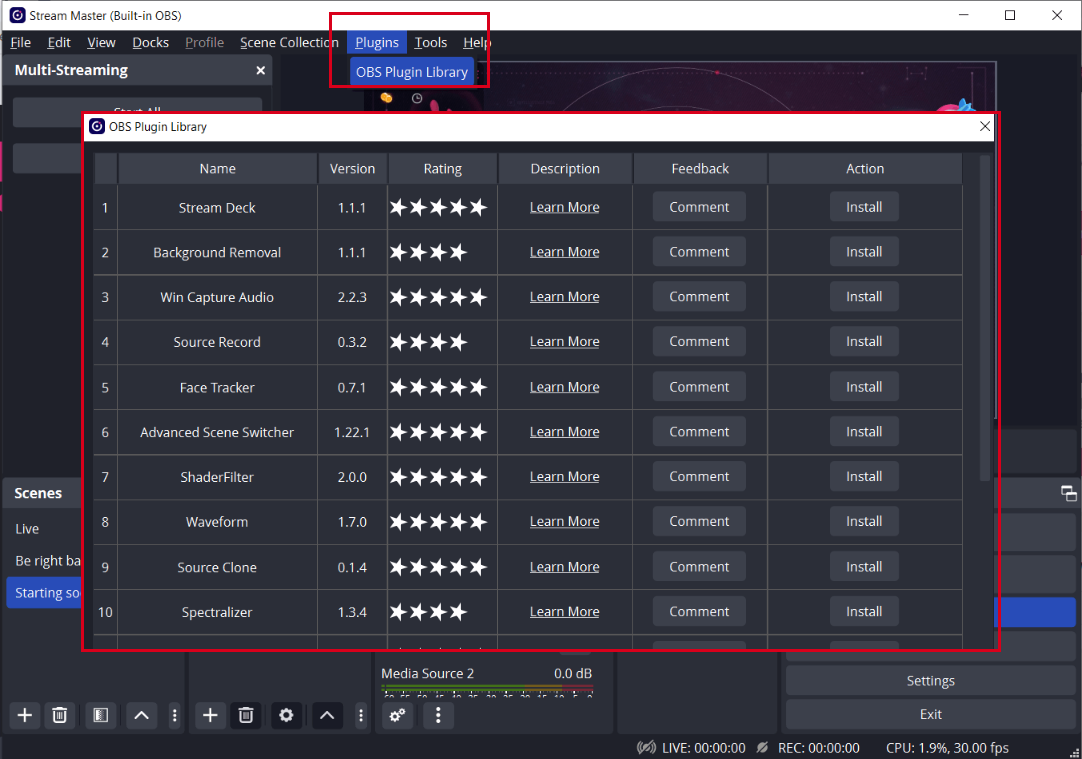 Stream Master's built-in OBS studio changes the game. We've reimagined the entire process, offering you a seamless way to manage OBS plugins.
Explore the Built-in OBS Plugin Library
When you access Stream Master's built-in OBS studio, you'll immediately notice a new addition to the top menu bar—Plugins. This game-changing feature transforms the way you manage your plugins.
Instant Installation: Inside the "Plugins" section, you'll find the "OBS Plugin Library" option. Clicking on this will unveil a variety of plugins available for direct installation. No more hunting for the right version—everything you need is here. Simply select the desired plugin, click "Install," and you're ready to roll.

Effortless Uninstallation: Beyond easy installation, our new feature allows you to uninstall plugins with a breeze. Maintain a clutter-free OBS setup that perfectly suits your needs.

Share Your Insights: Your feedback matters to us. With the OBS Plugin Library, you can provide feedback for each plugin. Utilize the "Comment" button to share your thoughts, suggestions, and even report issues. Your insights are invaluable in refining plugins and ensuring an exceptional user experience.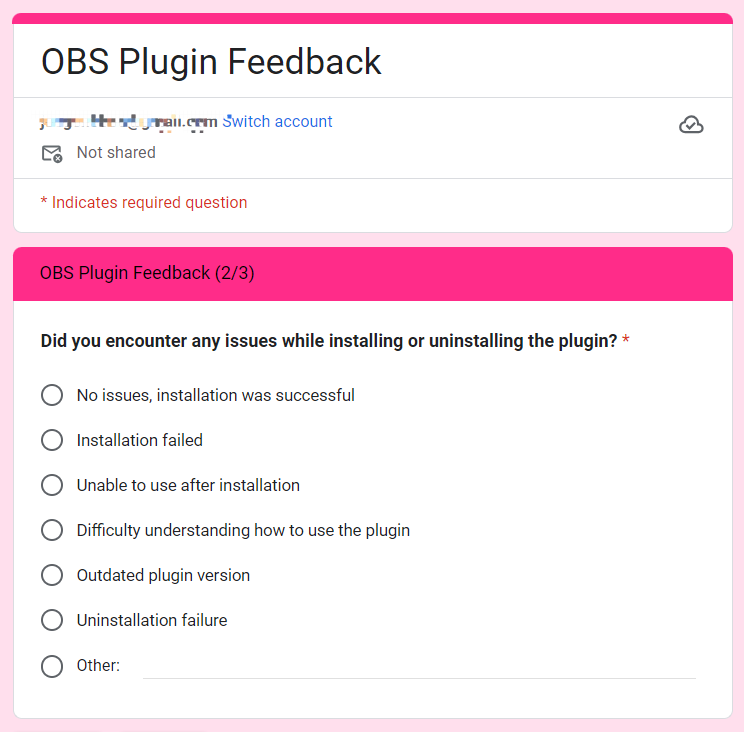 In-Depth Information: Curious about a specific plugin's functionality? Clicking Learn more directs you to an introduction page where you can explore a plugin's features, advantages, and potential applications.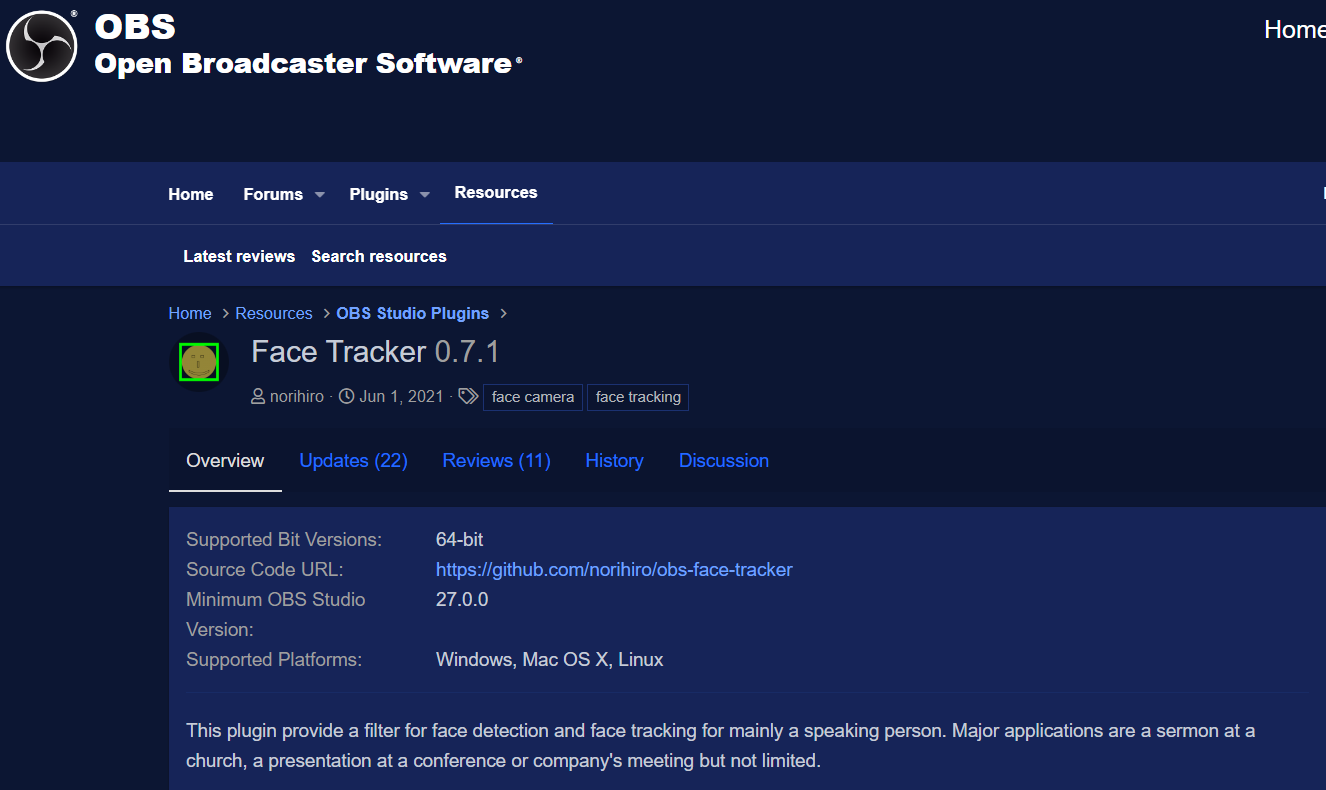 Tailored to You
On Stream Master, our goal is to empower your creativity and simplify your streaming efforts. The OBS Plugin Library exemplifies this commitment. Whether you're a seasoned streamer or just starting out, this feature streamlines plugin management, allowing you more time to focus on what truly matters—creating captivating content for your audience.
Getting started is effortless. Open Stream Master's built-in OBS studio, navigate to the "Plugins" section, and unlock a world of possibilities to elevate your streaming setup. Say farewell to the complexities of plugin management and embrace efficiency, adaptability, and enhanced control.
Stay tuned for further updates and enhancements as we continuously strive to make your streaming experience extraordinary. Happy streaming!